MSU, USDA Agricultural Research Service celebrate new partnership, "Atlas" supercomputer located at the Malcolm A. Portera High Performance Computing Center
October 2, 2020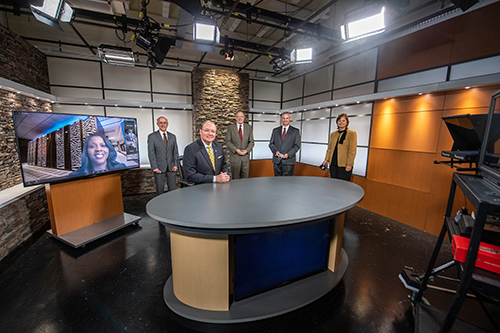 MSU and the U.S. Department of Agriculture's Agricultural Research Service celebrated the new "Atlas" supercomputer with a virtual event. Pictured with MSU President Mark E. Keenum, seated, are from left, MSU Provost and Executive Vice President David Shaw, Interim Vice President for Agriculture, Forestry and Veterinary Medicine Reuben Moore, Director of High Performance Computing Trey Breckenridge and Interim Vice President for Research and Economic Development Julie Jordan. Pictured on the screen is USDA-ARS Administrator Chavonda Jacobs-Young. Photo by Megan Bean
Building on decades of successful collaborations, Mississippi State University and the U.S. Department of Agriculture's Agricultural Research Service celebrated the new "Atlas" supercomputer with a virtual event.
With funding from the USDA-ARS, the state-of-the-art system was installed recently at MSU's High Performance Computing Collaboratory. The system contains 23,040 logical cores with 101 terabytes of total RAM, powering research advances in biocomputing, epidemiology, geospatial technology and more.
"All of us at Mississippi State are very proud of our longstanding partnership with ARS at Stoneville, as well as the ARS facilities and personnel who are on our main campus in Starkville," MSU President Mark E. Keenum said. "And now, we are thrilled to have the Atlas supercomputer and ARS scientists in the Thad Cochran Research, Technology and Economic Development Park – the largest and most successful research park in the state. Co-locating MSU and ARS scientists creates a unique environment, where together, we can solve complex agriculture and food security problems."
ARS is the U.S. Department of Agriculture's chief scientific in-house research agency, finding solutions to agricultural problems that affect Americans every day from field to table. ARS Administrator Chavonda Jacobs-Young said the new partnership increases the computational compacity of SCINet, the organization's platform for providing scientists access to high performance computer clusters.
"When we began considering how to expand SCINet, we knew Mississippi State University, with their impressive computing capabilities, and wealth of experience in modeling and analysis, would be a great partner," Jacobs-Young said. "It was clear to us that we could once again align our research efforts with MSU and mutually expand our efforts and impact."
MSU has been a consistent national leader in computing power and is currently home to the fourth most powerful academic data center in the U.S., Orion. In addition to the USDA, MSU's high performance computing capabilities have led to critical partnerships and research opportunities with the National Oceanic and Atmospheric Administration; NASA; the National Science Foundation; U.S. departments of Defense, Homeland Security, and Energy; among other state and federal agencies. The Mississippi Legislature provided funding during the 2020 session for the construction of a new high performance data center in the Cochran Research Park, which will further strengthen MSU's capabilities and provide new economic opportunities for the state.
MSU is also a national leader in agriculture research, consistently ranking among the top 10 universities in the country for agriculture and natural resources research funding. During his tenure as MSU president, Keenum, a former Under Secretary for the USDA, has made global food security a primary focus area for university research efforts. The USDA-ARS is a close research partner of the university, with ARS and MSU scientists working together to solve agricultural production issues and spur new innovations.
As the agriculture sector continues to implement advances in technology, high performance computing capacity can help meet the demand for data analysis, creating more productive and efficient processes.
"There is limitless potential when combining high performance computing and world-class agriculture research and development," said MSU Interim Vice President for Research and Economic Development Julie Jordan. "With our strengths in these areas, MSU is well-positioned to remain at the forefront of the exciting advances that will help feed our growing global population in the decades to come. Working together with partners like the USDA-ARS, we can continue to make a tremendous impact at the state, national and global level."
The state of Mississippi continues to develop substantial high performance computing capabilities. In addition to the facilities located at MSU, substantial computing systems are located at the Stennis Space Center on the Gulf Coast and the U. S. Army Engineer Research and Development Center in Vicksburg. Mississippi's supercomputing capacity currently ranks fifth in the country.
For more on MSU's High Performance Computing Collaboratory, visit
www.hpc.msstate.edu
.
MSU is Mississippi's leading university, available online at
www.msstate.edu
.
By
James Carskadon