Researchers Utilize VR to Meet Customer Demands
June 27, 2019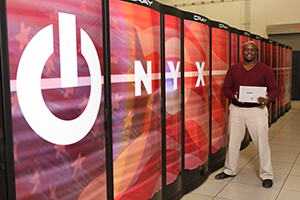 Dr. Michael Hamilton, associate director of ISER for Data Analytics and Visualization.
Photo by Gary R. HayGood
Virtual reality has taken the world by storm presenting new and innovative methods to mimic real-world scenarios. Along with the mounting usage of smartphones, the progression of computer technology and internet connectivity have been significant contributors to the growing market. In the workplace, VR has become a beneficial training tool due to its ability to create complex, interactive learning environments.
Daniel Carruth, associate director for Human Factors and Advanced Vehicle Systems at CAVS, is working with a manufacturing facility to train employees on conducting hazard assessments. The training was previously rendered through PowerPoint presentations. Carruth explained that while slideshows provided images and demonstrated how to fill out forms, the actual experience of having the employees identify and report hazards was a vital, yet fleeting element of the training. Carruth's team created an immersive VR environment to fill that gap.
Based on the manufacturer's decision to use VR for training, Carruth clarified that "When conducting real-world training, companies want to keep employees and facilities as safe as possible. VR provides the opportunity for workers to go into the environment where we create hazards that normally would be unsafe, which lets them experience identifying the unsafe elements and reporting them."

VR Images
by
Michael Hamilton
The CAVS Mixed Reality Lab, located in the Mitchell Memorial Library's Digital Media Center, is another VR project lead by Carruth. Among other equipment, the lab hosts five VR devices: two HTC Vives and three Oculus Rifts. In response to the escalating interest in VR applications, the lab offers cutting-edge learning opportunities for MSU students and faculty.
Similar devices are employed for VR research by Michael Hamilton, an associate director of the Institute for Systems Engineering Research for Data Analytics and Visualization. Hamilton is working with the Engineer Research Development Center (ERDC) to build a virtual library that would allow ERDC's employees to peruse the contents of the library without traveling to the facility.
"Oculus Rift headsets will grant patrons access to a virtual library where they can investigate book material, metadata and related photos and videos," Hamilton said. "Patrons will also be able to port into the library simultaneously. Likewise, we're looking to implement a means for patrons to request material through the virtual library and have it mailed to them, which would result in cost-savings."
Hamilton also is designing VR environments for ERDC's data analytic projects. His team has created a data visualization module that allows stakeholders to visualize trade space options in a 3D environment by using Oculus Rift and HTC Vive headsets and a Leap Motion Controller.
"Ultimately, the objective is to be able to conduct decision-based trade space analytics completely within the virtual space," Hamilton stated.
Hamilton and Carruth explained that a team of engineers, computer scientists, mathematicians, and digital content artists collaborate to program and design each virtual environment that will be used to train, educate, entertain, and reduce costs across many industries. As technology advances, VR is patently poised to revolutionize the way the world learns and communicates.
Written by Danielle Hamilton, former intern with ISER