Shaw Named MSU's New Provost and Executive Vice President
June 5, 2019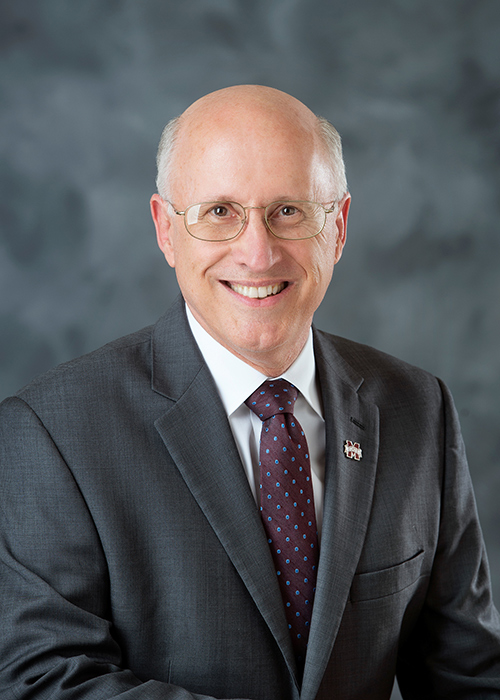 David Shaw
Photo by Megan Bean
A longtime faculty member and senior administrator at Mississippi State will serve the university in a new leadership role. David R. Shaw has been named the new provost and executive vice president after a productive tenure leading MSU's research enterprise and economic development initiatives.
MSU President Mark E. Keenum made the announcement Wednesday [June 5], confirming Shaw as Mississippi State's chief academic officer. His appointment is pending formal approval by the Board of Trustees, State Institutions of Higher Learning. He is expected to begin his new role at MSU on July 1.
As the university's second-ranking administrative officer reporting directly to the president, Shaw will be responsible for all academic policies, integrity of the academic mission, and academic operations of the university. He will provide direct oversight for eight academic colleges and two campuses, as well as many academic and non-academic support units.
Shaw is also charged with working with senior administrators to develop budgetary recommendations that affect the teaching, research and service missions of the institution. He succeeds Judith A. "Judy" Bonner as MSU's provost. Bonner, a former president of the University of Alabama, announced in January her intention to retire after a long and distinguished career in higher education.
Keenum said Shaw was chosen after a national search that produced "three extremely well-qualified, visionary finalists" and he expressed appreciation to members of the Provost Search Committee. Comprised of a majority of elected faculty, as well as appointed student, staff and administrative representatives, the committee was led by MSU Vice President for Finance and CFO Don Zant.
"I was impressed not only with Dr. Shaw's exemplary record of leadership and accomplishment over the last three-plus decades at MSU, but also with his passionate vision and enthusiasm for academic excellence, student success, and expanding opportunity and access," said Keenum. "I'm confident that Dr. Shaw will make an immediate impact on our university in this new and demanding role. David understands our land-grant mission and the diverse constituencies we serve. I have great personal confidence in his commitment to MSU."
Growing up on a family farm in rural Oklahoma, Shaw holds a bachelor's degree in agriculture from Cameron University in Oklahoma and a master's and doctorate from Oklahoma State University.
Shaw joined the Mississippi State faculty as an assistant professor in 1985, with a joint teaching and research appointment in the Department of Plant Pathology and Weed Science. He has taught undergraduate and graduate courses, including weed biology and ecology, herbicide physiology, fate of pesticides, and a remote sensing seminar.
During his time on the faculty, Shaw earned praise for his classroom teaching, graduate advising, publishing and ability to secure grant funding. In 1999, he was recognized as a William L. Giles Distinguished Professor, the university's highest honorary distinction.
As a faculty member, he was involved in expanding the curriculum through the creation of two multidisciplinary undergraduate degree programs. He has also advised and mentored numerous undergraduate and graduate students over his career.
Additionally, he played an active role in the Robert Holland Faculty Senate for six years, including serving as chair of the Charter and Bylaws Committee. During that time, the Faculty Senate enacted the faculty governance document that remains in place today.
Shaw is a fellow of the Weed Science Society and a fellow of the American Association for the Advancement of Science. In 2017, the Fulbright U.S. Scholar Program selected him for its prestigious U.S.-France International Education Administrators Program.
During the application and interview process, Shaw offered a more detailed blueprint for recognizing faculty members for their achievements and seeking more private funding to endow professors and chairs. He created a faculty leadership development program in his current office and proposed to expand such opportunities for faculty campus-wide. He also stressed the need to ensure the university's academic offerings provide all students with an opportunity to achieve success in an evolving and increasingly competitive workplace.
Shaw previously served as the founding director of the Northern Gulf Institute and the Geosystems Research Institute at MSU. As a director, he was an advocate for faculty involvement in institute activities, and supported graduate and undergraduate education in a variety of ways, including creation of two geospatial certificate programs that involved several colleges and departments.
Shaw has worked with more than 20 Ph.D. students who have become university faculty or government research scientists – helping to train a new generation. Others have served in leadership positions in industry or started their own businesses. Most recently, he was the major professor and mentor for a Ph.D. student who graduated in May. He considers his students' success among his most significant – and rewarding – contributions.
He has also worked closely with the Graduate School to expand opportunities for graduate students, and with the Shackouls Honors College to enhance undergraduate research programs at MSU. He has also actively supported student competitions. In May, he attended the EcoCAR Mobility Challenge-Year One Competition in Atlanta and observed MSU's team compete in the nation's premier automotive engineering program.
During Shaw's tenure, MSU now conducts well over half of all funded university research in the State of Mississippi, with research expenditures exceeding $240 million. The university has attained Carnegie R1 status and is ranked 94th overall in research and development by the National Science Foundation and 64th among public universities – including a national ranking of 9th in Agriculture research and 17th in Social Science research. In addition, the university is also a nationally and internationally recognized leader in multi-disciplinary, collaborative research and education offering undergraduate and graduate students unique opportunities to learn from and work with world-class faculty.
MSU is Mississippi's leading university, available online at
www.msstate.edu
.
By
Sid Salter