Mississippi State Professors and ISER Researchers Travel to Moroccan University to Discuss Student Transfer Program
March 4, 2019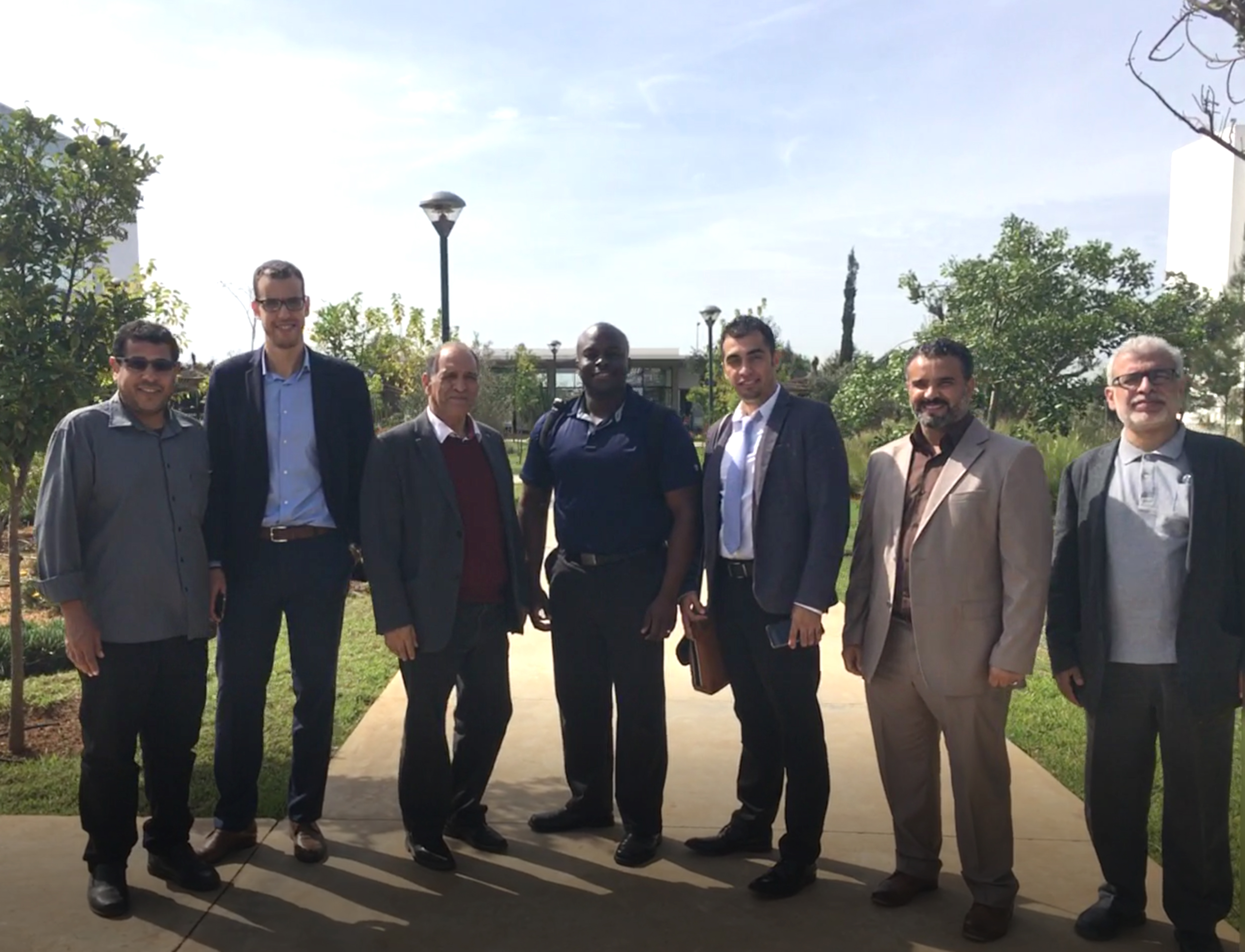 Mississippi State is broadening its collaborative efforts with the Universite Internationale de Rabat (UIR) of Morocco.

Michael Hamilton, assistant professor and associate Director at the Institute for System Engineering Research (ISER), and Raed Jaradat, assistant professor in the Industrial and Systems Engineering (ISE) department traveled to Rabat, Morocco to meet with faculty and administration at UIR.

During their visit, Hamilton and Jaradat provided a seminar on their respective research areas for the fourth and fifth-year students in the UIR College of Aerospace. Additionally, they met with faculty members to identify common research interests and to discuss student exchange possibilities with UIR and MSU's ISE and ISER.

Prior to this visit to Morocco, MSU's Aerospace department and UIR had established a student transfer program which allows UIR students to attend MSU after their fourth year of study to obtain a master's degree. Upon completion of the program at MSU, the students would receive their bachelor's and master's degrees from UIR. Subsequently, the students can choose to continue and pursue a doctoral degree in Aerospace Engineering or change degree fields.

Over the past two years, two students from UIR have enrolled into MSU's ISE doctoral program. They are being co-advised by Hamilton and Jaradat, who note that the students' performance has been exceptional. Both students stated that having an ISE degree would broaden their opportunities both in and outside of Morocco. Their academic performance in the ISE program led to Hamilton's and Jaradat's interest in understanding the possibilities of establishing a student transfer program with UIR at either the master's or doctoral level.

During the discussions, Hamilton and Jaradat focused on identifying the technical viability of accomplishing the task. As they do not have rights to financially obligate MSU, they proposed recommendations to establish new relationships between both universities.

Elhachmi Essadiqi, UIR's Dean of Aerospace Engineering, was principally interested in understanding the prerequisites and requirements of obtaining an ISE master's degree. After comparing both institutions' Aerospace curriculums for MSU and UIR, it was discovered that students would only need to take up to three classes to prepare for MSU's ISE master's program.

Sequentially, Hamilton and Jaradat provided recommendations for two students, one fourth-year and one fifth-year graduating student, to participate in the program each year.

Upon selection, the fourth-year student would enroll into the ISE master's program. If possible, a graduate research position will be offered for the student to pursue the research areas of Systems Engineering and Virtual and Augmented Reality.

The same options would be available for the graduating fifth-year student, only the student would enroll into the ISE doctoral program instead of the master's program.

Hamilton and Jaradat are currently discussing the possibility of visiting UIR again in the summer of 2019 to provide a two-week course on System of Systems and Virtual and Augmented research.